Looking at something like Magic Leap, it's obvious that something very extraordinary is about to happen in the world of digital experiences.
Image courtesy of Magic Leap.
Pushed forward by the gaming industry and legacy media like New York Times and The Guardian, virtual reality has already established itself as a serious platform across industries, but mixed or augmented reality on the level that Magic Leap are working on, feels even more overwhelming. So overwhelming and promising that Google invested $793.5 million in the project a while ago.
Follow me on twitter for updates on user experience design
Go to the Magic Leap website or read this comprehensive Wired article – or simply watch the video below to get an idea of what they're aiming for.

A promotion video from Magic Leap. Made without special effects.
Besides allowing you to experience flying whales, Magic Leap introduces a futuristic interaction paradigm in the form of interactive holograms.
The new professions: visionaries, rocket scientists, wizards, and gurus from the fields of film, robotics, visualization, software, computing, and user experience.
Technological breakthroughs and new paradigms always create a demand for new professional roles and I was curious to see what kind of roles Magic Leap are looking for, because clearly, this product is not being built by the average digital product team.
Or put in their own words: "Magic Leap is an eclectic group of visionaries, rocket scientists, wizards, and gurus from the fields of film, robotics, visualization, software, computing, and user experience."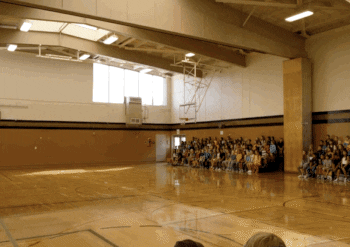 A virtual whale mixing in with reality
Browsing through the job listings on the Magic Leap website, a section carefully labelled "wizards wanted" by the way, gives a pretty clear idea about the kind of people they're looking for.
Not that I would have expected that in the first place, but most of these positions aren't aimed at regular designers, engineers or product developers, but rather at profiles such as a technical artist with good knowledge of python and c++. Or a Sr. Interactive Engineer who can validate algorithms for foundational interactions and build tests to verify and prototype interaction elements and create primitive interaction experiments and who is also heavy on ux. Or maybe an interaction designer who knows how to work with the Unity game engine or Cocos2D as a supplement to Photoshop and Illustrator. Magic Leap might have regular ux teams too, but regardless of titles, I still imagine that it's something entirely different to design for interactive holograms than for screens.
In the traditional world of digital user experience design, the ideal skill set for designers is constantly discussed, but it seems clear that if virtual, augmented and mixed realities (this article explains the differences by the way) become mainstream technologies in the years to come, digital designers and the products we work on, will need to pay attention to such technologies in ways that challenge our current tools, skills and processes radically. Exciting times ahead for interaction designers!
Let me know what you think on twitter.
I work in a department with two multidisciplinary scrum teams, each team with two designers. We're currently working on a big project using atomic design. That's all good.

Sketch is a good tool for atomic design, especially when using a…
Read more